Essential Industries
World Class Coatings… Powered by Essential Polymers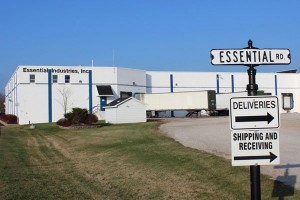 Essential Industries, Inc. is a family-owned business that traces its history back to 1898. Essential has grown from a regional private brand supplier to an international manufacturing and marketing organization. Essential provides solutions and technology that addresses its customers' needs.
With over 40 years of experience inventing brand new polymers, Essential Industries, Inc. has become a world leader in polymer innovation and floor care technology. Our most recent work developing a polymer using Nano-Technology for our X-Coat Nano coating is so unique in fact, it was awarded U.S. Patent No. 8,236,903.
While Essential's primary focus is in floor care products, its strength in Research and Development has enabled it to create designer polymers and resins for diverse customers in industries from floor finishes, paints, concrete, plastics, detergents, adhesives and printing ink technologies. To date it remains the only U.S. floor finish manufacturer that creates and produces its own acrylics, polyurethanes and hybrids in its two state-of-the-art factories.
Please see our website www.essind.com.