Super Concentrated
Product Number: 02746FC

Green Seal™ Certified – this cleaner is ideal for effective and environmentally-responsible cleaning of any hard floor surface using our green soil suspension technology. This product was specifically engineered to optimize our Nano Finishes.
Neutral Cleaner Plus is part of The Nano System.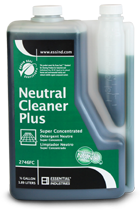 ---
Features – Neutral Cleaner Plus – 02746FC
Environmentally-responsible, Green Seal™ Certified formula is non-flammable, non-corrosive and phosphate-free.
Excellent for cleaning resilient floors, stone floors and sealed wood floors.
pH 7 (neutral) formula cleans without residue, will not soften or damage finished floors.
Unique detergent combination cuts through grime and holds particulate soil in suspension for easy removal.
Packaged in easy-to-use, 64-ounce "squeeze and pour" bottles.
Slip-resistant – UL-classified.
Directions – Neutral Cleaner Plus – 02746FC
Note:
This product should be diluted at 1:256 with cold water.
Application:
Loosen the small cap. Squeeze the bottle to fill the graduated cylinder to desired marking. For daily cleaning, dilute 1 ounce per 2 gallons (generally 2 ounces per mop bucket and 8 ounces per auto-scrubber).
Remove the small cap and pour measured concentrate into your bucket or scrubber.
Clean surface and let dry – no rinsing is required.
Properties – Neutral Cleaner Plus – 02746FC
Type: Detergent Blend
Form: Clear Liquid
Odor: Fresh
Color: Green
Hard Water Tolerance: >20 Grains
Weight per Gallon: 8.62 Lbs.
pH: 7.0 – 8.0
pH Use Dilution: 7.5
Shelf Life: Min. 1 Year
Freeze/Thaw: Passes 3 Cycles
Viscosity: < 20 cps.
Use Dilution: 1:256 (% oz./gal.)
Properties are typical and subject to usual manufacturing tolerances.
Packaging – Neutral Cleaner Plus – 02746FC
4 x ½-Gallon "Squeeze and Pour":
UPC Code: 783366274666
Pack Size (in.): 14.25 x 6.5 x 11.25
Cube (ft.): 0.60
Pack Wt. (lbs.): 19.14
Full Pallet: 68
Neutral Cleaner Plus Demo Video Soil Dispersion
This short video shows how effective Neutral Cleaner Plus is at dispersing tough soil from floors or any hard surface.