Extreme Performance Coating
Product Number: 00088FF
X-Coat Nano is different from traditional floor finishes and coatings because it doesn't use large ammonia complexes in the construction of its polymer matrix. Instead it utilizes our patented Nano-Zinc Technology, a technology previously considered to be impossible. Without the need for ammonia, X-Coat Nano can form strong, dense cross-linking between the polymers. And it does this with extraordinary speed using permanent, irreversible chemical bonds. This means X-Coat Nano has rapid gloss build, is highly resistant to soil and heel marks and will significantly extend your maintenance cycle to saving you time and money.
X-Coat Nano is part of The Nano System.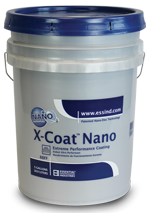 ---
Features – X-Coat Nano Finish – 00088FF
Incorporates our patented nano-zinc technology for more thorough and denser cross-linking of finish.
Nano-zinc cross-linking provides superior: lay-down gloss, mark resistance, gloss build, soil resistance, durability and dry and recoat times.
Ammonia-free for dramatically reduced odor.
Ideal for limited maintenance programs, yet responds to daily burnishing, if desired.
Low emissions formula – meets California's new 1% VOC Regulation.
Coverage – up to 3,000 square feet.
Fast-drying – 20 minutes under normal conditions.
Slip-resistant – UL-classified.
Directions – X-Coat Nano Finish – 00088FF
Application:
Strip floors using Xlerate™ Stripper following all package instructions to remove old waxes, sealers and finishes.
Rinse thoroughly and let dry.
With clean equipment apply thin, even coats of finish.
Under normal conditions, allow to dry for 15 to 20 minutes between coats.
For best results, apply a maximum of 4 coats in 24 hours.
Note:
For stripping and maintaining asbestos containing tile, follow OSHA or EPA guidelines.
DO NOT FREEZE
Coverage:
One gallon covers up to 3,000 square feet.
Maintenance:
DAILY: Sweep or dust mop as necessary to remove gritty soil.
DIRTY FLOORS: Clean with Neutral Cleaner Plus or Blue Concentrate. Follow package directions for proper dilution rates. Rinse and let dry.
TRAFFIC AREA: Clean with Blue Concentrate. Follow package directions for best results. Rinse and let dry. Apply additional thin coats of floor finish to traffic lanes as needed.
BUFFING: If desired, periodic burnishing with blended hair pads will enhance appearance.
PERIODIC COMPLETE MAINTENANCE: When stripping is required, use Xlerate following label directions for best results.
Properties – X-Coat Nano Finish – 00088FF
Type: Acrylic Emulsion
Form: Opaque Liquid
Odor: Bland
Color: Milky White
Film Clarity: Clear
Weight per Gallon: 8.57 Lbs.
pH: 8.0 – 8.5
Floor Solids: 20%
Storage Stability: Min. 1 Year
Freeze/Thaw: Protect From Freezing
V.O.C.: 0.59%
Properties are typical and subject to usual manufacturing tolerances.
Packaging – X-Coat Nano Finish – 00088FF
55 Gallon Drum:
UPC Code: 783366880003
Pack Size (in.): 23 x 34
Cube (ft.): 10.41
Pack Wt. (lbs.): 495.53
Full Pallet: 4
5 Gallon Pail:
UPC Code: 783366880058
Pack Size (in.): 12 x 14
Cube (ft.): 1.17
Pack Wt. (lbs.): 46.23
Full Pallet: 36
4 x One Gallon:
UPC Code: 783366880041
Pack Size (in.): 13 x 13.5 x 12.5
Cube (ft.): 1.27
Pack Wt. (lbs.): 36.56
Full Pallet: 36
X-Coat™ Nano Demo Video
Black Heel Mark Resistance – Snell Capsule
This short video shows X-Coat™ Nano's exceptional black heel mark resistance versus a competitive finish using the Snell Capsule.