Ultra-Concentrated, High Productivity Stripper
Product Number: 02917FX

This powerful stripper is ultra-concentrated and has very low odor which makes it ideal for tough jobs in populated settings. This product was specifically engineered to optimize our Nano Finishes.
Xlerate Stripper is part of The Nano System.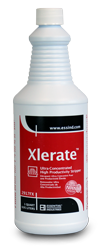 ---
Features – Xlerate Stripper – 02917FX
Aggressive dual-solvent formulation easily strips all seals and finishes on the first pass.
Ultra-concentrated 1:19 to 1:30 dilution provides the utmost in economy and convenience and greatly reduces inventory.
Powerful enough to remove multiple layers of highly burnished finishes.
Low odor formulation affords user comfort and eliminates complaints.
Effective in cold to warm water.
Slow evaporation rate for longer dwell time and reduced re-mopping.
Directions – Xlerate Stripper – 02917FX
Read Before Using:
This is a highly aggressive formula. Read precautions below.
Dilute before using. Do not use on painted surfaces or wooden floors. Use cautiously for stripping linoleum, rubber or asphalt tile as stripper may cause bleaching softening or bleeding.
Wipe up any spills or splashing from baseboards or painted surfaces immediately.
Note:
For stripping and maintaining asbestos containing tile, follow OSHA or EPA guidelines.
Directions:
To remove heavy build-up, dilute with cold water as follows: 1:19 to 1:30 part stripper to water.
Apply liberally to floor. Be sure to leave surface VERY wet!
Allow to remain on floor 8 to 10 minutes. Agitate with a mop or brush. Use scraper or doodlebugs to remove heavy finish build-up in corners and edges.
Strip mechanically with swing machine or a propane stripper using appropriate pads.
Pick up solution using a wet vac or auto-scrubber. If any finish remains (around baseboards), reapply stripping solution and agitate as necessary.
Rinse floor thoroughly with Neutral Cleaner Plus or Blue Concentrate for best results. Allow floor to dry.
Apply finish or seal.
Properties – Xlerate Stripper – 02917FX
Type: High Active Stripper
Form: Clear Liquid
Odor: Slight Solvent
Color: Aqua
Weight per Gallon: 8.47 Lbs.
pH: 10.5 – 11.5
pH 1%: 10.5
Storage Stability: Min. 1 Year
Freeze/Thaw: Passes 3 Cycles
Form Height: Moderate
Actives: >80%
Phosphate (%P): None
Properties are typical and subject to usual manufacturing tolerances.
Packaging – Xlerate Stripper – 02917FX
4 x One Gallon:
UPC Code: 783366291748
Pack Size (in.): 13 x 13.5 x 12.5
Cube (ft.): 1.27
Pack Wt. (lbs.): 36.58
Full Pallet: 27
6 x One Quart:
UPC Code: 783366291717
Pack Size (in.): 10.5 x 7 x 11
Cube (ft.): 0.47
Pack Wt. (lbs.): 13.985
Full Pallet: 64
Xlerate™ Stripper Demo Video
Fast-Acting Stripper
This short video shows how Xlerate™ Stripper can quickly and effectively remove multiple layers of finish from your floor.